Sihanoukville News, photos, info
Sihanoukville
Amazing nature with white sand beaches, beautiful islands and impressive economic developments characterize the dynamics of the region.
But still there is a soothing atmosphere for finest beach holidays in the relaxing south of Cambodia, where Sihanoukville prides a large variety of lovely accommodations.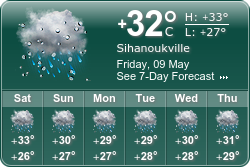 Especially the younger generations are feeling well entertained on Serendipity Occheuteal beach where many bars are playing music until the crack of dawn.
Getting around
Sihanoukville does stretch out a bit from Victory Hill to the beautiful Otres II beach and certainly the best way to explore all of the nice beaches is renting a decent motorbike for around $5 per day.
Get the best Hotel and Guest House rates in Sihanoukville
Boat Tour in Sihanoukville
Enjoy scenes from a Sihanoukville Boat Tour with music from Ampofo Acquah and badmanX.
Video
Bloco Malagasy
Watch a superb concert by the incredible Bloco Malagasy drummer girls from Madagascar up on Victory Hill at the Tiki Bar.

Internet TV
with videos from Cambodia
© web62.com Free Internet TV since 1999